Starting in 1972 I worked on a number of different "Advance Tire" projects Some were looking at an "aftermarket" device that could be placed inside a tire to offer some "Run-Flat" capability. Foam Aluminum and foam Urithane were used. These worked but were too heavy and expensive for general use by the trucking industry and they were not willing to pay the penalty of the original cost and the loss of load capacity for the truck. Visually they would resemble the Rettroband. Here is a picture of a similar device. Having watched the Rettroband video it appears they have a unique method of "attaching" the ring which was one of the areas we did not finalize.
I was also the project leader on the original "Run-flat" tires applied to the
people mover train
at the then-new DFW airport. This approach involved filling the air chamber with a rubber foam material (not urethane but flexible rubber) I believe that this is the approach used on some military vehicles today.
This is not some secret "magic" stuff that is being kept from public use by the military as some have suggested and it is not some "Area 51" SiFi material. Just rubber with a blowing agent. If you were willing to spend maybe $500 - $1,000 a tire, limit speed to an average speed of 25 - 30 mph and do a complete redesign of your front suspension to handle the 150 to 200-pound increase in tire assy weight, I believe you can have this on your vehicle. Oh, you also would need to be willing to scrap the wheels when your tire wears out and you can not dismount a foam-filled tire. Other "run-flat" military systems use a flat base multi-piece wheel with an internal ring along the lines seen here.
Note how the flat base multipiece wheels are assembled.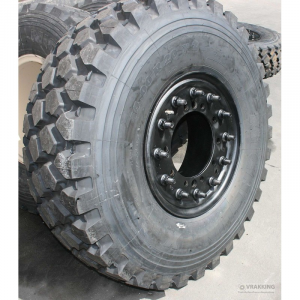 Other approaches involved going from 22.5 wheels to 26.5 diameter wheel while retaining the same OD, width and load capacity as the original 11-22.5. We even had about 600 special wheels manufactured and we applied these wheels and tires to hundreds of HD trucks. I
posted info
on my tire blog about these tires. The problem with these tires is they needed new wheels. While these tires provided significant improvements in vehicle control with a sudden loss of air on the front. the trucking industry did not feel the improved safety outweighed the increased cost of new wheels.
The Tyron system does not appear to offer any support of the tire tread or feature to limit the "drop" which IMO is an important feature of limiting the degradation or loss of vehicle control due to "blowout" but is intended as I understand it to prevent the flat tire from being dislodged from the wheel.